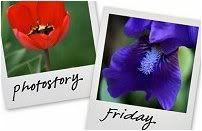 Hosted by Cecily and MamaGeek


MamaGeek
invited me to participate in Photo Story Friday a couple weeks ago and then, as it goes - life happened. But today I share my husband's office - no not the one with all the paperwork piled up. The one he drives to each weekend. The one that he met and hired me to work at.
This is the shady tree at my husband's office. It's a beautiful old oak tree that sits on a hill above the stage he works on every weekend, it provides us shade while we are working in 100 degree weather entertaining people that have come to have lunch at their company picnic.
I took this picture of couple of weeks ago, when my husband stopped by his "weekend office" to show some friends. Now that we have Harrison, I don't go up to help in the "office" as often as I previously did, but it was certainly nice to go visit this old friend. It brings back a lot of memories of meeting the Guy I Dig and falling in love. We were almost married under this tree - but since we were married in December, wedding plans took us in a different direction.
Since I don't have a better camera, my point and shoot doesn't give the size and grandeur of this tree justice. I can say that when there isn't a picnic taking place in the area, it is a peaceful deposit in an otherwise noisy, hot, chaotic theme park. We spent many an afternoon between events laying under this shady tree gazing up at the blue sky and talking about life.
Lyin' under a shady tree, you and me
Under a shady tree, you and me
Can you feel the breeze blow by?
Can you feel it on your face?
This is our special place.
Under a shady tree, you and me…
Can you feel the soft cool grass?
Can you feel it with your toes?
We can sit here while it grows.
Under a shady tree, you and me…
If you want to close your eyes
And sleep beneath the tree
You can rest your head on me.
Under a shady tree, you and me
Under a shady tree, you and me…



~ Laurie Berkner