Only yesterday...
That what it seems like. But alas it has been 10 years.
We've been married 10 years.
Wow.
Last year
I mentioned that I would have probably added some additional "detail" pictures had I known and pictures of getting ready. I didn't have anyone doing that. And even back then I would have loved close up shots of the flower bouquets and the bridesmaids gloves that I designed (and were sewn by a friend - thank you for taking over that project!). Regardless, it was a perfect day that we joyfully reflected on throughout and long past our first year of marriage.
Lately as I've been cleaning and downsizing things I don't use or need, I have stumbled across little items from that day tucked away here and there. One being my wedding dress shoved in Harrison's closet. I thought it would be fun to do a
Trash the Dress
session with the Guy-I-Dig for our 10th anniversary presciently since it was never cleaned and boxed. Then I tried it on - but 10 years, genes, and giving birth has left me unable to zip up the back.
So I took a picture instead!
Another item I discoved was the box with my wedding shoes. Seriously, they are not as pretty or sexy as the shoes I've seen photographed lately; and the years of living in a box inside the closet of hundred year old houses has taken it's toll on the not-so fancy-shoes. Yet, the scuffs and dirt on them represent a wonderful day filled with joy and celebration with our closest family and friends. I bought them with comfort and dancing in mind, Plus, I changed into my white 60's go-go boots (which have also not fared well in the hundred-year-old house...) under the wedding dress for part of the reception anyway .
So now I have a few detail pictures and I can let go of those items that I have no use for because these pictures evoke such great memories of that day.
Even 10 years later.
Here's looking forward to the next 10 years! Oh how I love that Guy-I-Dig!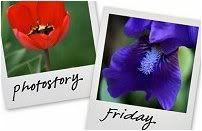 Hosted by Cecily