Seriously, three times in the last couple of weeks I've had the displeasure of watching *stupid* lame-brain drivers play chicken with emergency vehicles. I can't tell you how much it irks me! Is this a Southern California thing?
Got to get past that ambulance driving toward you, god forbid you have to stop for Ah-moment.
This occasion I had the camera in hand. (well, in the seat next to me and I grabbed it as I sat at the red light). what you don't see just out of the frame to the left is the crunched small pickup truck loaded on a flatbed.
Note to the
lame-brains
, while taking your next drivers test, when you read the question,
"When you hear the scream of an emergency vehicle what does the law require you to do?"
a. Speed up and get out of the way
b. Signal the driver to pass
c. Make a quick left-hand turn in front of oncoming emergency vehicle
d. Pull to the right and far as possible and STOP
Please, Please remember that the answer is D.
D for
DUH
! Doh! Doot-dee-doo.
And don't even get me started on stop signs.
...this has been a public service announcement for Photo Story Friday - don't make me come find you.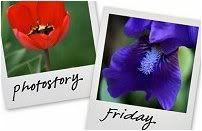 Hosted by
Cecily
and
MamaGeek