One of my favorite movies is "
Strickly Ballroom
" it's also the first film in Baz Luhrmann's
Red Curtain Trilogy
It's a quirky little Australian film with a big positive message...
A life lived in fear is a life half lived
I have chewed on that quote for many years. Vowing to live by it and not let fear rule my life; but I have found that fear can disquise itself in so many ways. Stepping out of my comfort zone has always been a challenge; there occasions where I have fallen on my face, been dismissed, or failed - miserably.
Yes, failure make us stronger because we learn from it, but I believe you can only learn from your failure if you have a support system in place to help you process the failure and encourage you to get back up. Honestly, that didn't always happen for me. So after a couple failures, I walked away shamefully.
But I have a support system in place now, a big loud support system; and I have, as one person today put it, "
a dream job
" to aspire after.
Only I never thought of it as a
dream job
. I never thought of it as a
job
at all. Or even a career possibility. But lately, it keeps rearing it's dreamy little head.
Then I was reminded of a quote from Martin Luther King Jr. that I've truly pondered all day.
Faith is taking the first step even when you don't see the whole staircase.
The thing is, like in the picture above, I don't see the whole staircase.
I've stepped down...
But like I said, the support system is
Loud
. and
Strong
.
[Knock, knock, um, supporters... I'm requesting a safety net at the bottom... I'm just saying.]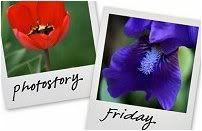 Hosted by
Cecily
and
MamaGeek