Seriously...
What is it with laundry and socks?
I've been quite clear on my feelings about doing laundry. But the weather is divine by the beach lately so I put load after load into
The Cleaner
. I also spent an afternoon putting all the clean, folded piles of laundry away and that's when I discovered them. Almost 20 [twenty folks!] socks hiding amongst the laundry, in piles, under t-shirts...WHAT??
EVERY-thing is clean.
No.
Really.
It is.
So why do I have almost twenty random socks? It's not like going to the laundromat
...wait a minute...
Maybe some hitched a ride to the
laundromat
.
Better yet, I think The Cleaner has been collecting a percentage for all the wash it does.
Is this The Cleaner's version of "Will Work for food"?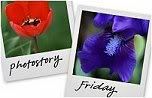 Hosted by Cecily and MamaGeek