I spied him just as he made his leap out the window.
Showing me his quick running skills. "Catch me if you can!"
"Aw SWEET FREEDOM!" he sings with a little happy dance.
Then I saw it - the hand up, the attitude - "Nya nya nya-nya nya!" he cried.
Oh yeah??

Who's crying now, eh?
Okay, I eventually took him back out of the trash can.
After all, he gave my that
puppy-dog
look...
You didn't see that one coming, eh?
Neither did I.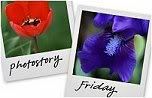 Hosted by Cecily and Izzy 'N Emmy