When I started this blog in January, I also started a feature called
Out My Kitchen Window
because I have watched the weather change through my west-facing window so often. Some of those evening sunsets are incredible! It's like a photo Twitter for the kitchen window.
Last Spring we got new neighbor in both upstairs apartments in the same week. Not only are they friendly and they each put up pretty red flowers, but one is a friend of ours! Which gave me a perfect opportunity to turn my camera on myself, so-to-speak. I went up at dusk one evening, visited my friend and took a couple pictures of that kitchen window. It sometimes feels like
Rear Window
around here with neighbors so close!
Now I know what the neighbor sees...
Hope you are recovering well from your Thanksgiving meals!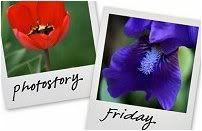 Two more days...
Ake Wachia Kin 'Kte