On Sunday the G.I.D. left for work, (yes, for those of you who are new here,
The
G
uy I
D
ig
works on the weekends) while Harrison and I got in the car to go to church.
Only we didn't get far.
It wouldn't start. The battery is fine, the alternator is fine, the starter is - not so fine.
Gah!!
Harrison cried. He wanted to go to church. Now I'm home all day with a Preschooler that won't nap and is whiny. Just my Luck. (Did I mention it was cold and wet outside from a light rain - not park weather. Not for me at least.)
What do you do with a Preschooler on a long cold day when you both wanted to be somewhere else? Feed him.
Better yet - have him help make not one, but two batches of Pumpkin Muffins.
From scratch.
That worked. He was in foodie-heaven.
But He still didn't nap.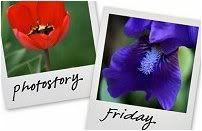 Oh and if you want the recipes, there are
here
(for the bumpy muffin - as Harrison calls it) and
here
. Next time I think I'll try the recipe from
Angry Chicken
.
Shalom!